A Counselor's Look through an AAPI Lens
Since the COVID-19 pandemic began, the prevalence and frequency of hate crimes and racially-based discrimination against Asians, Asian Americans, and Pacific Islanders (AAPI) has substantially increased. Xenophobic rhetoric touted by political leaders and media outlets that refer to COVID-19 as the "Chinese virus" echo historical sentiments of anti-Asian oppression that may contribute to cultural mistrust and racial trauma. Counselors are called to understand the cultural nuances of supporting Asian and AAPI communities, as they may be facing higher levels of mental health distress. The following presentation contextualizes the history of anti-Asian discrimination in the U.S. to help professional counselors understand how ongoing rhetoric perpetuates oppression. Finally, counselors will learn how racial trauma may present in Asian and AAPI communities and familiarize themselves with culturally sensitive strategies that cultivate resilience and healing within the therapeutic setting.
Objectives:
o   Counselors will learn how current xenophobic rhetoric echoes historical anti-Asian oppression in ways that contribute to cultural mistrust and racial trauma.
o   Counselors will obtain a deeper understanding of how COVID-19 related racial discrimination negatively affects mental health and life satisfaction of Asian American communities.
o   Attendees will learn specific and culturally sensitive strategies that foster community, promote resilience, and help Asian American clients respond to racial discrimination.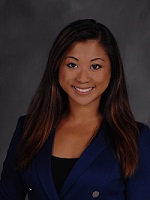 Meet your instructor:
Dr. Stacey Diane A. Litam
Stacey Diane A. Litam, Ph.D. is a Licensed Professional Clinical Counselor (LPCC-s), Nationally Certified Counselor (NCC), and Nationally Certified Clinical Mental Health Counselor (CCMHC) with experience in agency, college, non-profit and community mental health settings. She is a researcher, educator, and social justice advocate on topics related to human trafficking, human sexuality, LGBTQ+ concerns, diversity, and Asian American and Pacific Islander issues. Dr. Litam regularly facilitates educational workshops on state, national, and international levels and she is an active member in the American Counseling Association and the National Board for Certified Counselors. Her work has been published in the Journal of Counseling & Development, the International Journal for the Advancement of Counselling, The Professional Counselor, The Journal of Counseling Sexology & Sexual Wellness, The Journal of Mental Health Counseling, The Journal of Sexual Aggression, and the Journal of Child Sexual Abuse.
Check your inbox to confirm your subscription